Arch Allies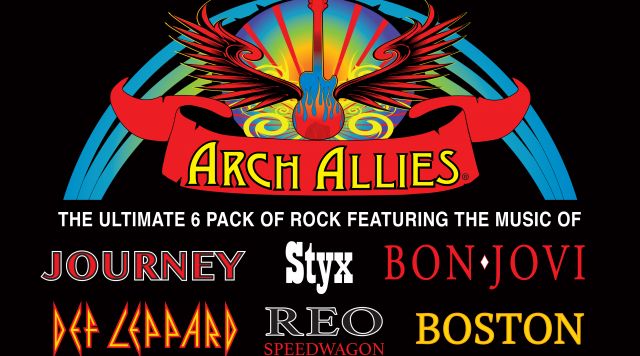 Date:
September 27, 2019 • 8:00pm
Cost:
Tickets from $10 plus taxes and convenience fees
Buy Tickets
Featuring the classic hits of Bon Jovi, Boston, Def Leppard, REO Speedwagon, Journey and Styx, Arch Allies rocks the crowd with a collective set of 80's favorites. The band covers some of Journey's biggest hits, including "Don't Stop Believin'" and "Open Arms;" Styx hits like "Come Sail Away" and "Renegade;" and REO Speedwagon favorites like "Take It On the Run" and "Keep On Loving You."
Lead vocal is brought in all its glory, by Scott Calderwood. Not only does the man have the voice that can do justice to these unbelievable bands, but also has the high-energy entertainment of a true front-man, pumping up the audience and sending them into a singing frenzy as he belts the most famous ballads of the times, all with good looks and charisma every female in the crowd can't get enough of.

But lead vocals alone don't make a band, and certainly not a show. The intricate playing of lead guitar, pumping bass, dynamic keys and thumping drums are all necessary to recreate the licks and chops that these bands are famous for and Arch Allies delivers. That isn't where the talent ends, however. Each of these members create the back-up vocals that enhance the unbelievable sound that becomes the performance that keeps fans coming back. Hearing and seeing is believing!
Box Office: 563-690-4758 / 800-582-5956
| | |
| --- | --- |
| Sun-Tues | Closed |
| Wednesdays | 5:00pm-9:00pm |
| Thurs–Sat | Open 3 hours prior to show |