Big Bad Voodoo Daddy's Wild and Swingin' Holiday Party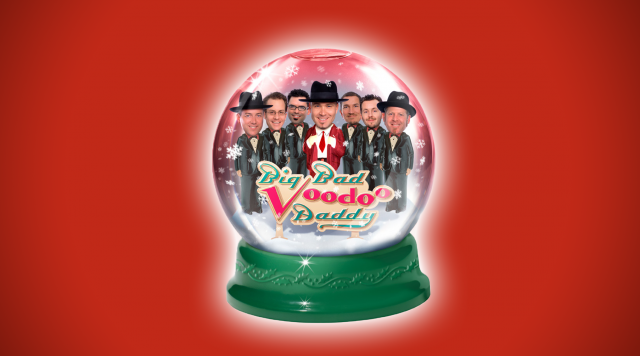 Date:
December 14, 2018 8:00pm
Cost:
Tickets from $30 plus taxes and convenience fees
Buy Tickets
Big Bad Voodoo Daddy (BBVD) jazzes up the season with their "Wild & Swingin' Holiday Party," boasting both original tunes and their own smoking hot versions of Yuletide favorites from their album It Feels Like Christmas Time. Fans in search of toe-tapping, brass-honking, high-energy holiday swing revival need look no further. Dressed to the nines in their trademark zoot suits and brandishing upbeat favorites like "Go Daddy-O " and "Mr. Pinstripe Suit," and holiday classics such as "Santa Claus Is Coming to Town," "Merry Christmas Baby," and "All I Want for Christmas (Is My Two Front Teeth)," be ready to celebrate this holiday in swingin' style.

Since their arrival on the music scene in 1993, Big Bad Voodoo Daddy, named famously after an autograph by blues legend Albert Collins, has sold millions of records while their music has appeared in hundreds of movies and television shows. BBVD's first phase of stardom featured an appearance in the 1996 indie film Swingers. Since then, they have sold out concerts from the Hollywood Bowl to Lincoln Center and appeared on TV shows from Leno to Conan, and Dancing with The Stars to Superbowl XXXIII. After 24 years, 10 records, over 2,800 live shows, performing for three U.S. Presidents, and countless appearances in film and television, Big Bad Voodoo Daddy is showing no signs of slowing down.

This eight-piece ensemble features Scotty Morris on vocals and guitar, Joshua Levy on piano, Kurt Sodergren on drums and percussion, Dirk Shumaker on bass and vocals, Glen "The Kid" Marhevka on trumpet, Karl Hunter on tenor, alto and soprano saxophones and clarinet, Alex Henderson on trombone, Andy Rowley on baritone saxophone and vocals, and Mitchel Cooper on lead trumpet.

Box Office: 563-690-4758 / 800-582-5956
| | |
| --- | --- |
| Sun-Tues | Closed |
| Wednesdays | 5:00pm-9:00pm |
| Thurs–Sat | Open 3 hours prior to show |