Black Stone Cherry *postoned*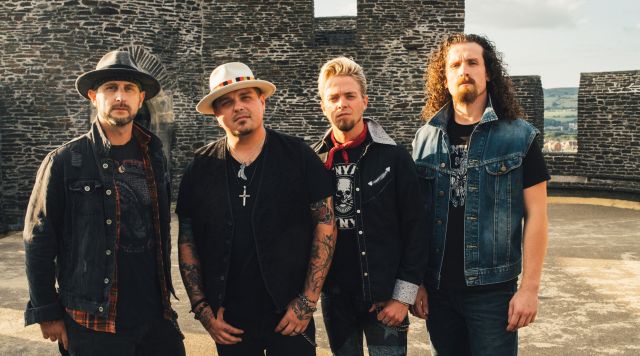 Date:
April 10, 2020 • 8:00pm
In taking additional precautions recommended by the Iowa Department of Public Health, Diamond Jo Casino Dubuque has made the decision to postpone our upcoming entertainment at Mississippi Moon Bar through May 13. These shows include the following:
All Wednesday night Laughing Moon Comedy
April 3: Wheelhouse
April 4: David Victor, Formerly of Boston
April 10: Black Stone Cherry
April 11: ABBA Revisited
April 17: Rob Schneider
April 18: Dueling Pianos
April 24: Morgan Evans
April 25: Time Machine
May 1: Bob Saget Special Engagement
New performance dates will be released at a later time, and all previously purchased tickets will be honored on the new show date.

If you are no longer able to attend the show, refunds are available by calling 563-663-6462 or email AaronRainey@BoydGaming.com. Please provide your name, show name, phone number, and order number.​​​​​​​
---
For 17 years, Black Stone Cherry has put forth a new vicious breed of Southern rock, injecting youthful vitality and a myriad of fresh new influences into the beloved American rock tradition. To date, the band has released five critically acclaimed albums, and one well-received blues EP. Black Stone Cherry has also rocked 12,000-cap arena shows, topped the UK charts, and shared the stage with a diverse roster of superstars, including Def Leppard, Lynyrd Skynyrd, Bad Company, Mötorhead, and ZZ Top.
Black Stone Cherry came together in 2001 in Edmonton, Kentucky, eventually coalescing around the lineup of Chris Robertson, vocals and guitar; Ben Wells, guitar and vocals; Jon Lawhon, bass and vocals; and John Fred Young, drums. Young's dad Richard, and his Uncle Fred, are two members of the iconic country-fried rock n' roots band The Kentucky Headhunters, and the high school-aged boys came up honing their craft in the group's Practice House, a 1940s bungalow.
With their sixth album,
Family Tree
, Black Stone Cherry salutes its classic rock heritage and honors its legacy with a beast of a Southern rock n' roll album.
Family Tree
boasts BSC's tried-and-true lucky number with its 13 songs, and, like all BSC releases, features songwriting contributions from each member. The result is a modern and meaty blues-based rock album, with unexpected sonic twists like punchy horn sections, barrelhouse pianos, Southern gospel organ, atmospheric synthesizer passages, and forays into funk and country.