Bobaflex w/ Six Shots 'Til Midnight & Silent Redemption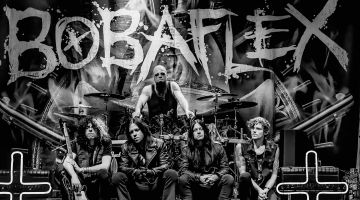 Date:
May 27, 2018 7:00pm
Cost:
Tickets from $15 plus taxes and convenience fees
Buy Tickets
Bobaflex with special guests Six Shots 'Til Midnight & Silent Redemption

Bobaflex is known as one of the hardest working bands in the country. Renowned for their high energy, live shows and relentless touring the band was formed in 1998 by brothers Shaun and Marty McCoy. The brothers are known for their ancestral ties to the most infamous family feud in American history between the Hatfield and McCoy.

Bobaflex just released their eighth album titled, ELOQUENT DEMONS in August of 2017. The album features singles, "Hey You," a passionate and sincere cover of Pink Floyd's, "Lights Out" and more to be released. Bobaflex has wrapped touring on their 7th album ANYTHING THAT MOVES (2015) featuring singles, "Mama Don't Take my Drugs Away" and "A Spider in the Dark". The follow up to CHARLATAN'S WEB (2013) that featured the singles "Bad Man"," I'm Glad You're Dead" and "Never Coming Back" and the album, HELL IN MY HEART (2011) that featured the singles "Bury Me With My Guns On", "Chemical Valley" and "The Sound of Silence".

Box Office: 563-690-4758 / 800-582-5956
| | |
| --- | --- |
| Sun-Tues | Closed |
| Wednesdays | 5:00pm-9:00pm |
| Thurs–Sat | Open 3 hours prior to show |