Bostyx featuring David Victor formerly of Boston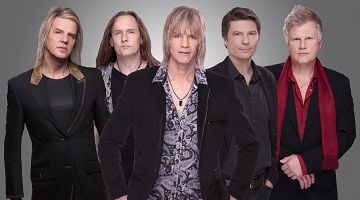 Date:
January 27, 2018 8:00pm
Cost:
Tickets from $15 plus taxes and convenience fees
Buy Tickets
BOSTYX featuring DAVID VICTOR formerly of BOSTON reproduces the hits and vibe of two American pop music icons BOSTON and STYX in one high-energy show. BOSTYX features lead vocalist DAVID VICTOR, featured as guitarist and co-lead vocalist on BOSTON's summer 2012 and 2014 tours of North America and in 2013 at the sold-out Boston Strong Benefit with Aerosmith. David was also lead vocalist on BOSTON's 2014 #1 hit single, "Heaven On Earth".

Bostyx performs all the best-loved hits including "More Than a Feeling," "Come Sail Away," "Lady," and "Foreplay / Long Time" and also delves into deeper album cuts like Styx's "Crystal Ball" and Boston's "A Man I'll Never Be," a fan-favorite song that Boston has not performed live since the 1980s.
Bostyx is comprised of David Victor on lead vocals and guitar; Glenn Jost on lead vocals and drums; Victor Bender on keyboard; Roby Duron on lead guitar; and Manny Aguirre on bass.
Box Office: 563-690-4758 / 800-582-5956
| | |
| --- | --- |
| Sun-Tues | Closed |
| Wednesdays | 5:00pm-9:00pm |
| Thurs–Sat | Open 3 hours prior to show |