Buckcherry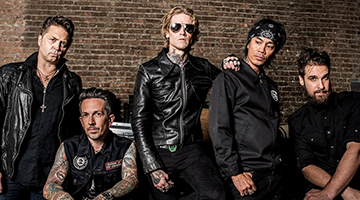 Date:
August 16, 2018 7:00pm
Cost:
Tickets from $25 plus taxes and convenience fees
Buy Tickets
Anaheim based Buckcherry burst onto the scene in 1999 with their now classic, self-titled debut album quickly skyrocketing them into the ranks of top modern rock bands. Hit singles "Lit Up", "For the Movies", "Dead Again", and "Check Your Head" brought the celebration back to the party scene, recalling the gritty glam impact of Mötley Crüe, but with a Gen X demanded, modern self awareness .

Later albums continued to develop their reputation for volatile, mercurial themes and infectious hooks; such singles as "Crazy Bitch," "Everything," "Too Drunk," and "All Night Long," became screaming choruses for fans across the world. With their irreverent and bawdy lyrics, delivered with frontman Josh Todd's whisky weathered vocals, paired with filthy guitar riffs and high energy, throbbing bass lines, Buckcherry has sustained a hard earned reputation for being the very definition of Rock Stars through seven hot selling full length albums and an EP, as well as maintaining a not-to-be-missed live presence with regular touring schedules alongside such fellow legends as Mötley Crüe and Papa Roach.

Buckcherry's current line up includes front-man Todd along with Stevie D. on rhythm guitar and backing vocals, Kelly LeMieux on bass, Kevin Roentgen on lead guitar and backing vocals, and Sean Winchester on drums.
Box Office: 563-690-4758 / 800-582-5956
| | |
| --- | --- |
| Sun-Tues | Closed |
| Wednesdays | 5:00pm-9:00pm |
| Thurs–Sat | Open 3 hours prior to show |