Ladies of The 80's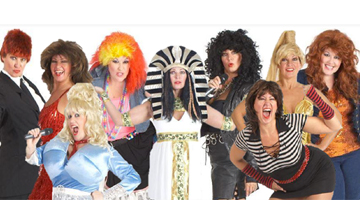 Date:
June 8, 2019 8:00pm
Cost:
No Cover Charge
Ladies of the 80's is a musical tribute to the girls and guys who rocked our world in that Totally Awesome era! This high energy Las Vegas style song and dance review features non-stop appearances by your favorite music icons.

Pat Benatar, Madonna, Cyndi Lauper, Shania Twain and Dolly Parton, lead off the parade of superstars in this mega star studded extravaganza! But let's not forget about the guys! Michael Jackson, Boy George, Ozzy Osbourne, Sonny and Cher join forces with Lita Ford, Heart, Tiffany and many more for a fun filled flash back in time! This fast paced show keeps the audience wondering which musical legend will take the stage next.

From one hit wonders to arena rock standards, Ladies of the 80's takes you on a musical journey through the decade from Blondie to Bon Jovi, Joan Jett to Journey, Devo to Def Leppard, Stevie Nicks to Steve Miller Band!

With added flashbacks to decades past and forward leaps to present day jams, the Ladies of the 80's show offers something for EVERYONE!