Planet Axe Tour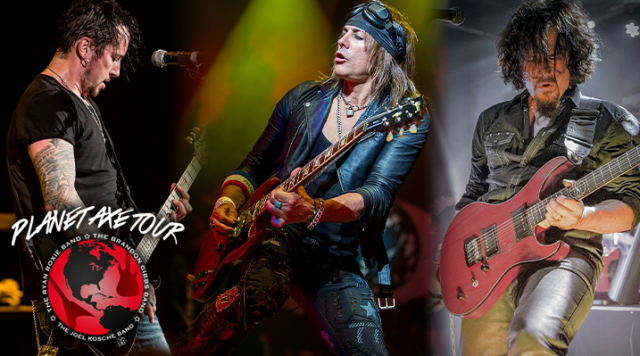 Date:
April 5, 2019 8:00pm
Cost:
No Cover Charge
Planet Axe is a touring all-star band featuring Ryan Roxie, Brandon Gibbs, and Joel Kosche. Each artist showcases their work from back catalogs through the years, as well as throwing in hits from bands and artists they have written and performed with.

Ryan Roxie is an American guitarist, singer, and songwriter best known as a solo artist who is best known as Alice Cooper's long-time lead guitarist and collaborator. Ryan's tireless work ethic makes it difficult to total his many contributions to the rock landscape. Joining forces with so many of rock's legends including Slash and Gilby Clarke, he was also a member of the classic rock award-nominated band, Casablanca.

Ryan's newest album Imagine Your Reality, is his first official solo album, and sees him collaborate with Cheap Trick's Robin Zander on the track "California Man," as well as many other guest musicians. Roxie continues to create infectiously melodic rock songs, but this time with even more guitar than any of his other previous releases. If there's a secret to being a rock star, then Ryan Roxie certainly knows what it is.

Brandon Gibbs is an explosive guitar player that has a powerful, soulful voice and a brilliant sense of melody that sets him apart from his contemporaries. Brandon's songwriting takes you on an incredible journey throughout the performance, often transcending genres of rock, blues, pop, and country. His heart and soul pour out of him on stage, and no two performances are ever the same. The integrity of the music remains but the atmosphere of each venue, along with the vibe of the fans, all make for a unique show experience.

Brandon is currently touring in support of his latest solo album, October Twenty Four. At a relatively young age, he already has decades of experience and accolades in his songwriting and performing resume. Gibbs is known as the frontman for The Special Guests, featuring Bobby Dall, Rikki Rockett, and C.C. DeVille of multi-platinum band Poison, and is also the lead singer for the supergroup Devil City Angels including, Rikki Rockett of Poison, Tracii Guns of LA Guns, and Rudy Sarzo of Ozzy Osborne and Quiet Riot.

Joel Kosche is best known for his thirteen-year tenure as the lead guitarist of the platinum-selling rock band Collective Soul. Kosche became an integral member of the band, touring all over the world, recording on several studio records, co-writing and co-producing songs and even sang lead vocals on the song "I Don't Need Anymore Friends."

In 2009, Kosche was inducted, along with the rest of Collective Soul, into the Georgia Music Hall of Fame. He is set to release his second solo record in 2019 and is currently touring with his power trio performing high energy, loud guitar, and melodic hard rock shows.