Rolling Thunder with Hack Sabbath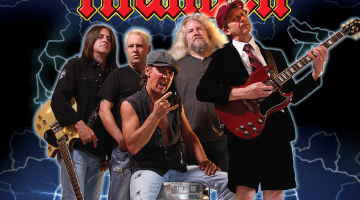 Date:
December 30, 2018 8:00pm
Cost:
No Cover Charge
Rolling Thunder – The Music of AC/DC provides a high energy packed performance replicating the music, an experience that gives the visual, the audio and the thunderous feel of an actual AC/DC concert, while performing the biggest hits from both Bon Scott and Brian Johnson eras. Members of the group have performed in concert as support with headline acts such as Heart, Lynch Mob, FireHouse, Drowning Pool, and Hairball to name a few.

Hack Sabbath - an Ozzy Osbourne Experience!
Enjoy the spectacle that is Iowa's premier Ozzy tribute band. Performing Ozzy's best works from over four decades of rock and roll with Black Sabbath and his solo career. You'll feel Ozzy's stage presence through the combination of on-point vocals, costumes, theatrics, and amazing music. Hack Sabbath has performed with classic rock artists Queensryche, Enuff Z'nuff, BulletBoys, and others. Say goodbye to 2018 the right way: by jumping the Crazy Train with Hack Sabbath!