Saliva, with Soil and Shallow Side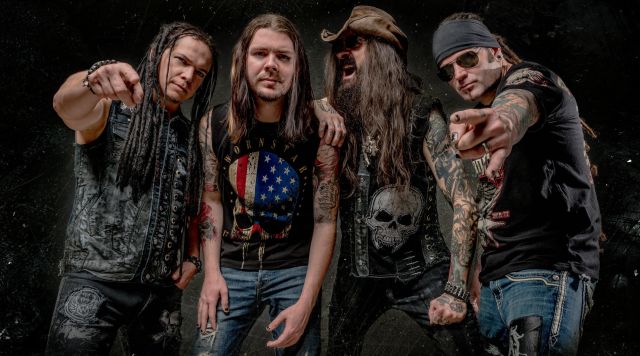 Date:
August 10, 2018 8:00pm
Cost:
Tickets from $15 plus taxes and convenience fees
Buy Tickets
SALIVA
After acquiring front man Bobby Amaru in 2011, Saliva became infused with new blood, energy, and spirit. The same energy that launched Saliva's career in 2001 with their second studio album,
Every Six Seconds
, a certified Double Platinum album, containing the hits, "Click Click Boom," and 2002 Grammy nominated "Your Disease." Saliva's in-your-face, anthemic writing style continued with a certified Gold album,
Back into Your System,
with hits "Always," "Raise Up," and the Nikki Sixx co-written song, "Rest In Pieces."
Saliva's most recent studio album,
Love, Lies and Therapy,
was written on their own terms around their road dog touring schedule. Tracks like "Refuse to Lose," and the Michael Jackson cover of "They Don't Care About Us," have taken off on Spotify with millions of streams. In September 2017, Saliva independently released a cover of Eminem's iconic song "Lose Yourself," which became an explosive internet streaming hit in the rock genre.
Since their last album, Saliva would not be pushed into record deals that were not advantageous toward the growth and expansion of Saliva as a whole. They formed their own label Refuse to Lose Music, and are slated to release a new album in 2018.
SOIL
Ryan McCombs (lead vocals)
Tim King (bass)
Adam Zadel (guitar)
Formed in 1997, Chicago Heavy Rock band SOiL quickly took the scene by storm. The band has sold over 2 million albums worldwide and is best known for the hit singles "Halo", "Unreal", "Redefine", "The Lesser Man", and "Shine On".
With the song "Halo" gaining major radio attention, a major label bidding war broke out in an attempt to sign SOiL. The band would ultimately sign to J Records (BMG) by music industry legend Clive Davis. Clive, responsible for signing such acts as Pink Floyd and Aerosmith, stated that "you're gonna be my only rock band for now. You're going to be a priority, and I want to break this band." SOiL experienced mainstream success with the major label debut "Scars" which was released in September 2001. This achievement was aided by the popular singles "Halo" and "Unreal" which gained the band exposure on MTV. The success resulted in the band winning Metal Edge magazine's 2001 Readers' Choice Award for "Next Big Thing". The band consistently toured in support of top name acts such as Ozzy Osbourne and Rob Zombie which propelled the group into arena sized venues and crowds.
In 2004, the band released their second major label album "re.de.fine". The group toured for a year straight in support of the album and returned home to begin writing follow up material and finish various live dates.
The band released their next two albums "True Self" (2006) and "Picture Perfect" (2009) and proved that they were a mainstay in the Hard Rock world with non stop touring and by spawning yet another top charting hit single with "The Lesser Man" in 2010.
SOiL released its sixth studio album, entitled "Whole", on August 20, 2013. The album was a "Return to form" for the band and has been hailed by fans and critics alike as the album that could have come directly after the "Scars" album. Some featured songs from "WHOLE" include the top 40 charting singles "Shine On" and "The Hate Song". Both meeting with strong rotation and charting at the Active Rock format.
After celebrating their 20th anniversary in January of 2017, SOiL entered into the studio to record new material to be included on "SCREAM: The essentials", a Greatest Hits collection featuring the songs that solidified SOiL as Hard Rock mainstays, as well as, alternate versions of popular tracks and unreleased material. The new studio track "Gimme Some Lovin" is a cover song originally featured in the 1980 smash hit cult classic movie "The Blues Brothers". "We felt it was a perfect song to add the album" states bassist Tim King. "It tied in our Chicago roots and the 20th anniversary of the band perfectly".

SHALLOW SIDE
Eric Boatright – vocals
Seth Trimble – guitar/keyboards
Matt Daniels – bass/guitar
Heath Fields – drums

Rock is dead, they say? Hogwash. Don't even bring up such an idea with the four-piece
Cullman, Alabama-bred rockers Shallow Side, who have taken it to be their personal holy
mission to spread the glory of modern rock & roll as far and as wide as they can to anyone who will listen. "The energy and excitement of rock & roll is missing nowadays, and we need it now more than ever," believes Shallow Side's frontman, vocalist Eric Boatright. "Our goal is that we want to revitalize that entire genre and remind the world how rock & roll can be such a strong force in everyone's lives."

The proof of Shallow Side's pure rocking prowess can be found within the deep grooves of their new EP titled ONE, which is being released by Thermal Entertainment on January 13, 2017. ONE is one tight, ass-kicking affair from the get-go, from the wham-bam all-out jam of the opening track "We Roll" to the fist-waving defiance of "Rebel" to the put-up-or-shut-up manifesto of "Fight or Flight" to their all-guns-a-blazing modern-day take on a well-loved rock classic, Styx's "Renegade.

Ultimately, Shallow Side is creating new music that fuses the best intentions of classic rock with modern crunch by planting their flag at the intersection of where Shinedown meets Styx. "Not only do I respect bands like Journey and the Eagles, but I also look to current artists like Daughtry," Boatright says of his songwriting influences. "It's the people who have the rhythm, the rhyme, and the harmony. You put those things together, and you're not going to miss reaching any rock-music fan out there. They're going to be a fan of what we do immediately. As soon as the rhythm, rhyme, and harmony all kick in, they're going to enjoy it."
Box Office: 563-690-4758 / 800-582-5956
| | |
| --- | --- |
| Sun-Tues | Closed |
| Wednesdays | 5:00pm-9:00pm |
| Thurs–Sat | Open 3 hours prior to show |