Smile Empty Soul with guests Coldville & Dead Eyes
With Special Guests Coldville and Dead Eyes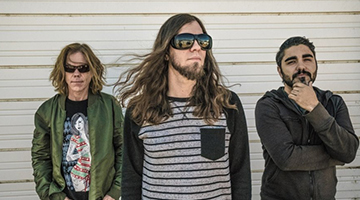 Date:
June 13, 2019 7:00pm
Cost:
No Cover Charge plus taxes and convenience fees
THREE GREAT BANDS, ONE AWESOME NIGHT!

SMILE EMPTY SOUL
Smile Empty Soul is a hard rock trio that originated in Los Angeles, CA in the late 1990's and has stayed true to their brand of "no bullshit", "real as it gets" hard rock to this day. The band signed a major label record deal in 2003 to release their self-titled debut album in May of that year. They realized huge success at alternative radio, rock radio, and the music video channels that have since fallen by the wayside, or turned into reality show networks.

After 3 very successful singles/videos, and a gold record from the debut release, the band ran into trouble with their record company (which was in the midst of turmoil at the top levels) and found themselves working extra hard in the trenches signed to indie labels from then on.

This would become Smile Empty Soul's destiny, as they have gone on to release many more albums on various labels, with their 8th full length "Oblivion", coming out on May 25th.
The band has become known for its constant touring and never wavering honest sound/lyrics. They've never changed for anybody, and turned down many opportunities to "sell out" because it's not who they are.

Now, with their new album "Oblivion" set to release on May 25th(15 years almost to the day after their Gold selling debut) and a calendar full of tour dates, Smile Empty Soul seems to have established itself as one of the defining underground rock bands of its generation.

COLDVILLE
The West Michigan rock band Coldville first formed in 2010 and began writing the tracks for their debut album. The self-titled full length album was released in 2011. In early 2012, the band was reformed to create a more diverse alternative rock sound. They have played at various venues and festivals with bands such as Papa Roach, Halestorm, Sick Puppies, Scott Stapp of Creed, Zach Myers of Shinedown, Finger Eleven, Trapt, Saint Asonia, Buckcherry, Pop Evil, Nothing More, Lacuna Coil, and others. Their EP "This Fight" was released in May of 2013. The band is made up of vocalist Luke Ponce, guitarist Aaron Lutz, drummer Matt Millering, and bassist Jimmy Blankenship. They are currently working on a new full length album.

DEAD EYES
Dead Eyes story is only beginning, but has started with a bang. After one meeting with his fellow band mates, lead singer Zach Williams embarked on a 24 hour straight drive across the country. His goal? To escape circumstances at home which had come to leave him feeling complacent. This feeling of being trapped is what lead Zach to write his first song with the band, "Prisoner". The song is full of energy to represent the drive and mental toughness it can take to rise when times are darkest.

It was only a few weeks after Zach made Pennsylvania his home that the band saw themselves playing a sold out show with hometown heroes August Burns Red. The response to the show was outstanding and The Deadkru, a fanbase turned subculture, has been growing rapidly since. With over a million combined streams between all platforms and social media numbers that are growing everyday, Dead Eyes have amassed all of the necessary tools to take over the scene in 2019.