Smile Empty Soul with Flaw, Code Red Riot, & New Lingo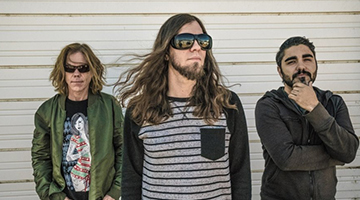 Date:
August 30, 2018 7:00pm
Cost:
Tickets from $15 plus taxes and convenience fees
Buy Tickets
FOUR GREAT BANDS, ONE AWESOME NIGHT!

NEW LINGO
New Lingo formed in 2013. They can be described as a mixture of indie and pop alternative rock.
Shortly after the band's formation, they had the privilege of playing the St. Louis Warped Tour. They have since gone on to open for well-known acts such as, Hands Like Houses, He Is Legend, Set It Off, Silverstein, I the Mighty, and Dance Gavin Dance, to name a few.
New Lingo recorded with STL local, Matthew Amelung at Encapsulated Studios for their first 2 EP's, Feral Youth (2014) and Best Friends (2016). To support their Best Friends release New Lingo released 2 music videos, "Violent Shakes" and "Part Of Me". The video for "Part of Me" spread quickly through social media and has since accumulated almost 200K views on Facebook.
The release of their Best Friends EP led to interest from some notable record labels. Keeping the buzz going, they embarked on a west coast tour. After returning home they continued to stay busy playing in the St. Louis area, along with out of state shows on the weekends.
Recently, New Lingo finished recording their 3rd EP, Beloved, with Nick Ingram (Courage My Love, City Lights, Hawthorne Heights), at Capital House Studio in Ohio and the songs were mixed and mastered by Kris Crummett (Sleeping With Sirens, Issues, Dance Gavin Dance).

CODE RED RIOT
Code Red Riot originated as a cathartic musical outlet for Corky Gainsford, formerly of the band OTHERWISE.

Although he was known in the music industry primarily as a drummer, Corky had also worked behind-the-scenes as a producer, songwriter, and recording engineer for over a decade. After sifting through dozens of riffs and melodies he'd written over the years, he decided to focus on crafting a group of hard rock songs that featured anthemic choruses, melodic riffs, and soul-searching lyrics balanced on top of a hard-hitting rhythmic groove.

Following in the footsteps of Dave Grohl (Foo Fighters), Sully Erna (Godsmack) and Blake Allison (Devour The Day), Corky knew it was time to make the necessary transition from drummer to frontman.

In 2017, after posting the band's early demo of "Living Low" on Facebook, the song was quickly picked up by Sirius/XM Octane and several terrestrial radio stations across the USA, without any record label, promo team, or industry machine pushing the product. The music was unique, and people were responding.

This response was quickly noticed by Sony RED Music, who signed the band shortly afterwards.
On CODE RED RIOT's debut album, Corky played almost all the instruments himself (vocals, drums, bass and rhythm guitar), and recruited a fantastic unknown guitar slinger, named Tyler "Taz" Azure, to round out the album's lead guitar work.

Unconcerned with the latest media-defined trends and fashions, their music is full of honest and earnest material, filled with heart, soul, blood, guts, angst and relentless passion. Look for CODE RED RIOT's debut album, "Mask," to be released by Sony RED Music in the Summer of 2018!!!

FLAW
FLAW's story began with the independent release of home-grown albums American Arrogance (1996), Flaw (1998) and Drama (2000). It was the songs on these recordings that garnered the attention of Universal Republic Records, who signed the band and released the break-through Through The Eyes in 2001. The offering topped the Billboard "Heatseekers" chart, largely fueled by the singles "Payback" and "Whole." The band then followed-up with an album entitled Endangered Species via Republic in 2004, but soon thereafter the band went through personnel changes and ended their relationship with the label. Volz stayed creative, releasing a critically acclaimed solo record, and also touring aggressively with the band Five.Bolt.Main. The band's tumultuous relationship with themselves, and their label, were reflected in their songs. It was the life and energy captured in these songs that propelled the band forward. It was always FLAW fans' connection to their songs that carried the band on. "We would not be where we are today without our hardcore fans," says Volz. "The Flaw Family is the backbone of everything we do, and we cannot wait to get out and tour in support of this new record".

FLAW a band that is re-emerging on the strength of renewed focus and energy, and that energy is captured on the lead single from "Divided We Fall", a song called "Live and Breathe" that is a vessel of raw human experience and emotion. The band has waited 12 years to release a proper album, to rally and come together. FLAW can accomplish great things, and their fans are poised and ready to answer the call.

SMILE EMPTY SOUL
Smile Empty Soul is a hard rock trio that originated in Los Angeles, CA in the late 1990's and has stayed true to their brand of "no bullshit", "real as it gets" hard rock to this day. The band signed a major label record deal in 2003 to release their self-titled debut album in May of that year. They realized huge success at alternative radio, rock radio, and the music video channels that have since fallen by the wayside, or turned into reality show networks.

After 3 very successful singles/videos, and a gold record from the debut release, the band ran into trouble with their record company (which was in the midst of turmoil at the top levels) and found themselves working extra hard in the trenches signed to indie labels from then on.

This would become Smile Empty Soul's destiny, as they have gone on to release many more albums on various labels, with their 8th full length "Oblivion", coming out on May 25th.
The band has become known for its constant touring and never wavering honest sound/lyrics. They've never changed for anybody, and turned down many opportunities to "sell out" because it's not who they are.

Now, with their new album "Oblivion" set to release on May 25th(15 years almost to the day after their Gold selling debut) and a calendar full of tour dates, Smile Empty Soul seems to have established itself as one of the defining underground rock bands of its generation.

Box Office: 563-690-4758 / 800-582-5956
| | |
| --- | --- |
| Sun-Tues | Closed |
| Wednesdays | 5:00pm-9:00pm |
| Thurs–Sat | Open 3 hours prior to show |