Mercury Retrograde Tour featuring Tantric
with special guests Wayland, Paralandra, and Talia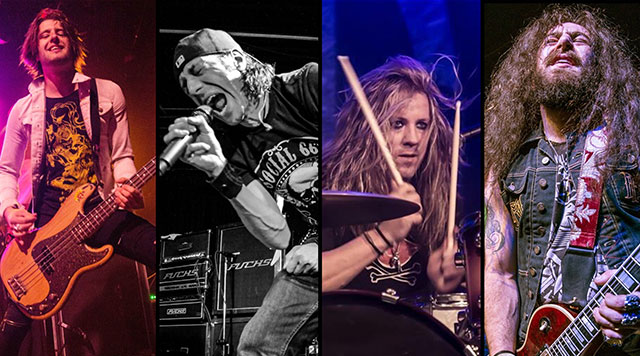 Date:
October 18, 2018 7:00pm
Cost:
Tickets from $15 plus taxes and convenience fees
Buy Tickets
Mercury Retrograde Tour featuring Tantric with special guests Wayland, Paralandra, and Talia

TANTRIC
Tantric is an American rock band originally from Louisville.. Tantric was founded in 1999 by X-DOTN & Hugo Ferreira whom, in may of this year, completed their eighth album,
37 Channels
.
To hear the soundtrack running through Hugo Ferreira's head, just listen to the 13 songs on the new Tantric album. With more than 50 minutes of visceral, diverse rock, 37 Channels musically mines the soul of the Tantric singer, letting listeners inside the band's most personal and evocative album to date—and that's saying something for a platinum-selling group with hit singles including 'Breakdown" and "Down and Out." Of heady new songs like "Loss for Words," "Where Do We Go From Here?" and "Broken," Ferreira explains with a laugh: "I can't afford a therapist, so this is what I do. I regurgitate all my angst and pain and confusion and joy. I'm showing more, letting people into my brain and heart."
WAYLAND
Over the last few years the genre of rock has been pulled in so many different directions, leaving timeless vocal melodies and guitars to become few and far between. Wayland naturally possesses these qualities and more.
Formed in 2010, The band was soon signed to Kiefer Sutherland's Iron Works Records by hit singer/song writer/producer Jude Cole. Managed by Jesse James Dupree, Wayland released their first single "Welcome To My Head," which experienced high ranking on Mainstream and Active Rock charts. The follow up charting single "Reno," began to showcase Wayland's diverse influences, from huge vocal harmony reminiscent of classic rock icons like Journey and Queen, and thick crunchy guitar riffs and pounding drums leaning on the hard rock side of the spectrum.
With the release of 2014's "Get A Little," the band's music video for the song went viral bringing in massive social media and YouTube numbers, causing the song to hit #6 on ITunes Rock charts. 2016 brought the Active Rock radio hit single "Bloody Sunrise," taking the band into almost 5 straight years of non-stop touring, boasting 250+ shows a year.
There's no signs of Wayland slowing down any time soon. Their new album
Rinse & Repeat
is out now with the first single, "Through The Fire," reaching into the 20s on Billboard's Mainstream Rock.
PARALANDRA
From the beginning, hard rockers Paralandra, decided to concentrate on creating pure, heartfelt music, no matter how it came out. They have not wavered from this approach, and continue to strive to provide a product that is a sincere and unique expression of themselves, both lyrically and musically.
The band started in the summer of 2013 as Casandra and Paul Carson decided to create a band to perform the songs they had begun writing. Everything clicked when reunited with Casandra's former highschool friend, Nick Gray, who also had been writing and wishing to perform in an original rock band. With the addition of Paul's longtime musical collaborator, Josh Pool, on bass, the band was born. In less than 2 months, the newly formed band began playing live and recording.
The first 12-song CD,
Rise Up
, was released in June of 2014, and reorders were a necessity to keep up with demand from sales at live performances. They soon began to enjoy more widespread and high profile shows, including opening for Hinder, Scott Weiland, Alice In Chains, Disturbed, Soundgarden, and many more, as well as playing to local crowds as large as 7,500. They have also been invited to numerous showcases across the country, including playing in David Ivory's (multi Grammy winning producer of Halestorm, The Roots, and more) showcase at the Millennium Music Conference 2015, SXSW 2016 & 2017, and Launch Music Conference 2017. Paralandra continued to perform at national music festivals including Rockfest, Dirtfest, and Rocklahoma. They have been blessed to receive many appreciated accolades in their still fresh musical journey, such as being nominated "Best Original Band" by the readers of 417 Magazine, "Best Musical Performance" on the late night talk show, The Mystery Hour, and "Year's Best Band Performance" by Ozarks LIVE! on KOZL, a CBS television network.
In 2016 Sawyer Rikard joined Paralandra on bass guitar, and their new release, "All Fall Down," debuted, hitting #1 on the Billboard Heatseekers chart, followed up with the Northeast "Alive" Spring Tour.
In May, 2018 Paralandra signed with Legend Recordings, and have just released the new, highly anticipated EP,
Ascension.
Paralandra is known for their high energy while on stage. They have created an intentional and orchestrated show for all viewers to enjoy, not only to listen to, but to watch. Each song, transition, key, tempo, and crowd interaction is carefully thought out and designed to create an entertainment experience that will never be forgotten. Their sound is often compared to bands like Halestorm, Evanescense, Alter Bridge, and Foo Fighters.
TALIA
The punk rock band TALIA consists of Alice Thomas (bass/backing vocals), Nicolas Costa (guitar/lead vocals), and Hervé Goardou (drums).
With aggressive riffs, heavy bass and pounding drum beats, TALIA falls in the line of sounding similar to 90's rock bands such as Hole, The Pixies, and Nirvana. Being from Paris, France, they even made it into the French edition of Rolling Stone Magazine!
Always lively and on the verge of implosion, their music is to their image: nervous! After several shows in the US the Paris/Los Angeles based trio releases their 4th record,
Let Sleeping Dogs Lie
, a successor of
Cockroach Killer
(2008),
Permanent Midlife Crisis
(2013) and
Thugs They Look Like Angels
(2015).
Box Office: 563-690-4758 / 800-582-5956
| | |
| --- | --- |
| Sun-Tues | Closed |
| Wednesdays | 5:00pm-9:00pm |
| Thurs–Sat | Open 3 hours prior to show |