The Everly Brothers Experience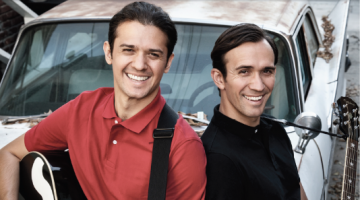 Date
September 24, 2017
Cost:
Tickets from $15 plus taxes and convenience fees
THE EVERLY BROTHERS EXPERIENCE: featuring THE ZMED BROTHERS & THE BIRD DOG BAND
Brothers Dylan and Zachary Zmed capture the Everly Brothers' authentic sound with an affable, cohesive performance that seamlessly recreates the original band. Together, they replicate both the songs and the looks of one of the most influential duos in music history.
Isaac Donald "Don" and Phillip "Phil" Everly were known for their melodies that blended rock 'n' roll with country music. They enjoyed a successful career that spanned more than three decades, with 35 Billboard Hot 100 singles including 26 that made the top 40. In the late 1950s, the brothers recorded the chart-topping hits "All I Have to Do Is Dream" and "Wake Up Little Susie" off their self-titled album that was certified Gold. They went on to record the hits "Cathy's Clown," "Till I Kissed You," "Bird Dog," "Crying in the Rain," and more. The Everly Brothers were inducted into the Rock and Roll Hall of Fame in 1986 and the Country Music Hall of Fame in 2001.
Box Office: 563-690-4758 / 800-582-5956
| | |
| --- | --- |
| Sun-Tues | Closed |
| Wednesdays | 5:00pm-9:00pm |
| Thurs–Sat | Open 3 hours prior to show |