Black Stone Cherry - NEW DATE
Southern Hard Rock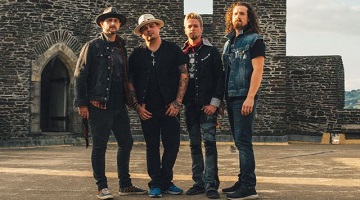 Date:
October 23, 2021 • 8:00pm
Cost:
Tickets from $15, plus tax and convenience fees.
Buy Tickets
This show has been rescheduled from April 9, 2021. All previously purchased tickets will be honored on the new show date.

If you are no longer able to attend the show, refunds are available by calling 563-690-4750. Please provide your name, show name, phone number, and order number.​​​​​​​

Black Stone Cherry came together in 2001 in Edmonton, Kentucky, eventually coalescing around the lineup of Chris Robertson, vocals and guitar; Ben Wells, guitar and vocals; Jon Lawhon, bass and vocals; and John Fred Young, drums. Young's dad Richard, and his Uncle Fred, are two members of the iconic country-fried rock n' roots band The Kentucky Headhunters.

With their sixth album, Family Tree, Black Stone Cherry salutes its classic rock heritage and honors its legacy with a beast of a Southern rock n' roll album. Family Tree boasts BSC's tried-and-true lucky number with its 13 songs, and, like all BSC releases, features songwriting contributions from each member. The result is a modern and meaty blues-based rock album, with unexpected sonic twists like punchy horn sections, barrelhouse pianos, Southern gospel organ, atmospheric synthesizer passages, and forays into funk and country.